M.I.S.S. March: "Let Your Dreams Run Free"
March is "Women's History Month". Over at M.I.S.S. we decided for our monthly calender to pay tribute to Florence Griffith-Joyner, aka "Flo Jo" and do nails inspired by her wild and flamboyant style on and off the track. Using a pair of Nike track shoes circa 1999 and a pair of 80's leggings turned "one leggers" here's what we came up with.
Be inspired by the women that have come before you, the ones that are laying ground in the present and those yet to come. In 1988 this woman made history with three Olympic Gold Medal wins and broke the World's Record in the Women's 100m Dash.
Florence Griffith-Joyner
aka "Flo Jo" was dubbed the "fastest woman in the world" and although World Records and gold medals support that statement, Flo Jo not only ran fast but her unique sense of style on the track could not be denied. Let's start with those nails!!! At one point they reached lengths of 6.5"! For the 1984 Olympics in L.A., she maintained a more manageable length of 4" and painted three red, white and blue and a fourth gold for the medal she had hoped to win in the 200 meter dash . . . she ended in 2nd and with a silver medal. On and off the track she sported wild nail style. In 1985, after the track season ended, she styled friends' nails and hair in the evenings to help make ends meet. Flo Jo knows nails.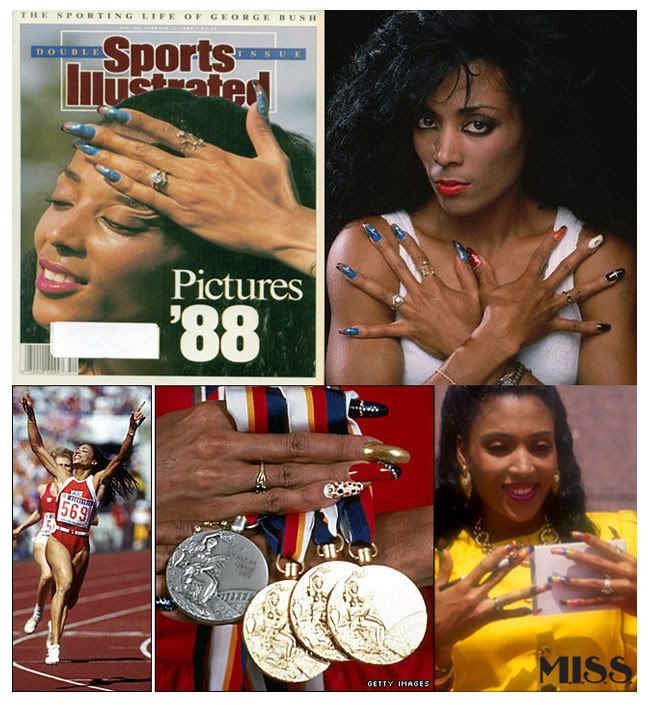 Read the full story and download the desktop image and calender
here
!
Labels: flo jo, florence griffith-joyner, miss crew, nike, The Goods, vintage